Laserfiche Connector with Workflow on PDF
Thursday, April 21, 2022 at 10:27am
We have everything working great with Laserfiche Forms, where after the signatures are completed, OneSpan knows to assign a certain metadata field to the specified document to indicate to the corresponding workflow that processing can continue. We have no issues on that end. However, when I try to use the integration with a document instead of through Forms, this is what happens. See screenshot below for some visual assistance:
We use an Attach Word Document activity to fill in a variable on a local Word template and turn it into a PDF

The Word template has the same anchor text we used for signature/date as on the form

​​​​​​​Laserfiche Workflow creates a blank document in the repository

We attach the electronic file from the PDF to the created entry and use that as the target document for the OneSpan Request Signature action.

Otherwise, I do not change any values within the properties of Request Signature from our successful Forms workflow

The workflow sends out an email for someone to sign the document, then waits for the metadata field PackageStatus_OSS to be assigned when signing is complete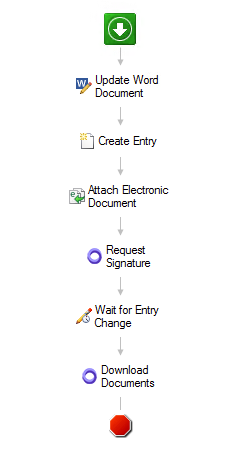 But even though I get the email that signing is done, the field never gets assigned, so it gets stuck waiting for entry change. I tried reviewing the documentation for a hint, but all I could come up with was using EntryId:[the entry ID of the document] in the Laserfiche Documents String field, but all that did was cause 2 requests for signature to be sent out instead of 1. Is there something I'm missing? If I manually set the PackageStatus_OSS field, the workflow continues, the signed copy comes into Laserfiche as intended, and it is signed and dated perfectly. But the part where the field gets assigned is supposed to be automatic when signing is complete.
---