---
Earned badges
Achievement: Latest Unlocked
Replies
Topics Started
Preferences
Topic Started
Topics
When signing a document via OneSpan that was sent out via Laserfiche Workflow, the only option is the screen below where you manually draw your signature.
Hello,
I have successfully built a Laserfiche Workflow that sends out a document for signature from one signer and retrieves the signed copy as a new version.
We have everything working great with Laserfiche Forms, where after the signatures are completed, OneSpan knows to assign a certain metadata field to the specified document to indicate
Replies Created
Monday, April 25, 2022 at 11:48am
Hi Moshiur,
This is already how the workflow is configured. It does not work.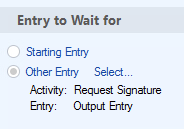 ---
Friday, April 29, 2022 at 08:27am
Thursday, September 22, 2022 at 04:09pm
Thank you, this worked great. Is there a way to make it so the user has the choice between either signing by hand or clicking to sign?
---
Subscriptions
Topics
Replies
Freshness
Views
Users

When signing a document via OneSpan that was sent out via Laserfiche Workflow, the only option is the screen below where you manually draw your signature.

2
6 months ago
22

Hello,

I have successfully built a Laserfiche Workflow that sends out a document for signature from one signer and retrieves the signed copy as a new version.

1
9 months 1 week ago
31

We have everything working great with Laserfiche Forms, where after the signatures are completed, OneSpan knows to assign a certain metadata field to the specified document to indicate

10
10 months 2 weeks ago
128