Injecting AcroForm Radio Buttons
Thursday, January 7, 2021 at 11:20am
As posted in this thread it seems injecting radio buttons into a PDF is not supported -- is that still the case?
In AcroForms, radio button groups are defined as two or more radio button controls that have the same Name but different 'Choice' values -- see attached for my test PDF.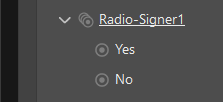 This isn't possible to reference by the API, as two elements cannot have the same ID.
So either I am missing something obvious, or this is still not supported.
Thanks
---